What Type of Window Film is Best For YOU?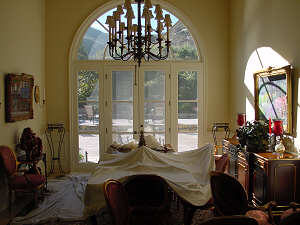 When most homeowners call us, they usually are trying to solve a problem — for example, the sun is pouring in the windows. Typically the homeowner is concerned about fading of the interior, the sun heating up a particular room, glare reduction and/or privacy (in that order). In this particular photo, the customer was concerned about the fading of the pictures and dining room table. This is a photo taken before any installation occurred. The client was so concerned about their furniture and pictures fading, they laid sheets down!
At the end of the day, its up to the client to choose which film is going to achieve their best objectives. What we do as a company is listen to what the customers' objectives are, the problem they are trying to solve, and the aesthetics they want to achieve. After listening to the customer, we provide recommendations by showing samples, product specifications, and literature for products that best suits their wants and needs. Furthermore, we demonstrate the performance of different film products by using testing equipment to accurately measure the performance of different films.
The most important thing to remember about choosing the right film for you, is to make clear what objectives your trying to achieve (major heat rejection, fade protection, glare rejection). Equally important (to most) is how is it going to look (clear, low-reflective, reflective, or dual reflective). Below is a check list of the types of films that may best suit your needs.
Comparing Appearance of Reflective and Ceramic (Low Reflective) Films
Note: Placing mouse over either side of pictures will apply that treatment to that picture and provide descriptive information.
Reflective
Ceramic
Low Reflective